Mine planning today
Accurate planning of mining operations is critical to the successful operations of any underground mine. The sequence of mining development, ore extraction, ground handling operations, optimal resource allocation, and risk management, are all an integral part of the planning process.
The automation of mine planning is an essential component of information management in mine development. Today, various software mining packages are used across the mining industry – all include variations of underground mining planning modules as part of a general Mining Information Support System (MISS).
Integration of planning methods into the corporate MISS approach can optimize mine planning but only inside a unified informational space. A unified approach includes the consistently updated geological model, mine survey information, the configuration and status of mining fleet and transportation equipment, economic indicators, etc.
Planning automation platforms cannot be adapted to the tasks introduced into specific mine workflows and may often fail to follow corporate standards and safety regulations or support additional aspects of a mine project.
Mine Planning with Mine Advisor™
Mine Advisor planning and scheduling technology, offered by Sight Power, is a flexible solution that allows customers to quickly customize the planning process for each mining company or project.
The intuitive graphical interface allows users to quickly visualize an ore extraction sequence, create alternative options for mining development plans, and assists with plan modification. Scenarios are created and exported into MS Project.
Traditionally, mine planning is divided into long-term, medium-term, and short-term plans. The following brief descriptions of planning logic can be tailored to meet specific customer requirements.
Long-term planning
Planning is based on the mine partition model which introduces the division into structural mining units (as panels, blocks, ore extraction areas or development sections).
The overall scope of work is determined according to the annual production target for each structural mining unit. The scope of work can be defined by a mining engineer or generated automatically.
All mining units are arranged into a tree-like "mining sequence" with easily configurable dependencies and predecessors. This ensures that each phase is completed before initiating the next.
A mining engineer can control the mining start date for any structural unit, the allocation of mining fleet equipment to certain mining area or mine level, as well as the exact position and performance of each machine across the planning system, shifting out the timing of all future phases which are dependent on items across the planning system. This automatically shifts the timing of all future phases and dependencies.
The system dynamically compiles charts for total ore production during a certain period and plots the effective utilization of mining equipment. When the parameters of any mining operation changes or the date of commencement of mining for any structural unit shifts, an operator can immediately see the impact on the entire plan.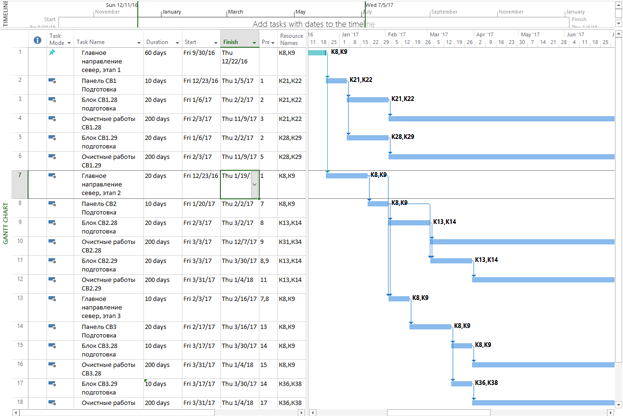 Medium-term and short-term planning

Planning is based on the topological model of the mine, involving detailed models of mine workings and indicating the route for each continuous miner.
A mining engineer interactively moves a continuous miner along mine workings, setting the beginning and end of each task for a particular machine.
Customers can set up various modes of operations for continuous miners and maintenance crews for each mine working.
Options are available to introduce the maintenance schedule for mining machines and for the ground handling network, to assess the downtime for mining and transport equipment.
The duration of the tasks is automatically recalculated considering downtime and various mine development scenarios.
The system controls the capacity of the ground handling network and helps identify any bottlenecks.
The system always refers to the actual, regularly updated, geological model for ore volume forecasts and calculation of ore grade mined during each shift.