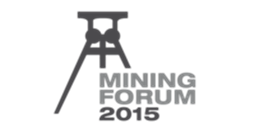 Sight Power Inc. participated at the Mining Forum 2015 in Kassel, Germany, 18-19th June. organized by DMT GmbH & Co. KG.
The Mining Forum (MF) brings together the industry's top decision makers, experts and specialists every two years to discuss topics related to mining. The event offers a comprehensive panorama view of various complex topics related to raw materials. The increasingly international event has a long tradition and is well established in the mining industry. Every two years, renowned speakers address relevant issues in the national and international natural resources industry with a practical and informative focus.
At the Mining Forum 2015 SightPower Inc. had two presentations:
Together with the colleagues from DMT GmbH SightPower Inc. presented the Innovative approach for monitoring and inspection of deep mine shafts
Then SightPower Inc. presented the Integrated Data Management system with particular emphasis on potash mining.
SightPower took active part in various technological discussions with visitors and other participants of the conference.